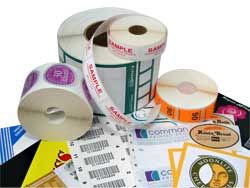 Labels
Commander can produce labels with a variety of shapes, colors and materials to suit any labeling need.
Some of our custom label products include:
• Decorative Product Labels:
     • Spot Color
     • 4-Color Process
     • Foil Stamped
     • Embossed
     • Silk Screened
• Shipping Labels
• UL & CSA Approved Labels
• Direct Thermal Labels
• Thermal Transfer Labels
• Laser Cut Sheet Labels
• Medical Blood Bag and Test Tube Labels
• RFID (Radio Frequency Identification) Labels and NFC (Near Field Communication) Labels
• Instant Redeemable Peel-Off Coupon Labels
• Mini-Booklet Labels
• Bar Coded & Sequentially Numbered Asset or Inventory Labels
Some of our standard label stocks include:
• Destructible Vinyl
• Embossable Aluminum
• Foil: Gold & Silver
• Glow-In-The-Dark
• Holographic/Prismatic
• Mylar/Primax
• Polyester: Chrome & Brushed Chrome, Clear, Gold & Brushed Gold, and White
• Reflective
• Removable
• Respositionable
• Static Cling
• Tamper-Evident ("Void" if Removed)
• Vinyl: White or Yellow
What is the difference between Direct Thermal & Thermal Transfer?
Direct Thermal material has a coating that is heat-reactive. The image is produced when the print head dots heat up and fire against the label causing the dyes and solvents to react to the heat and form an image onto the face stock. The material is more expensive that thermal transfer, but does not require the purchase of ribbons. The shelf life is much shorter. It is used primarily for products that have a short shelf-life, such as meat packages, delicatessen, and shipping labels.
How do you tell the difference between Direct Thermal and Thermal Transfer?
It is next to impossible to tell just looking at it. The best way is to use a match or a lighter next to the surface. If it instantly turns black it's Direct Thermal. If it turns a light shade of brown it is Thermal Transfer.